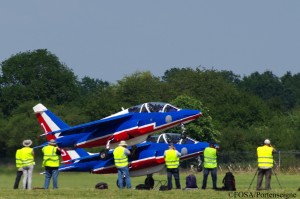 Originally, during World War I, plane spotters were soldiers in charge for the surveillance of the sky. They would give an alert at the arrival of German bombers. Nowadays, they watch the sky, looking for THE exceptional aeronautic photograph.
Since 2015, "Fondation des Oeuvres Sociales de l'Air" has wished to value spotters on the airbases hosting the airshow. Spotters have thus been welcomed in 2015 for a 3 days' package over the weekend to take high quality pictures in the best possible conditions. Then in 2016, a 4 days' package was available, the 4th day being dedicated to aircraft's departure.
Indeed, regulations during the days non open to public, allow for a closer position to the runway and to the air show, but also allow for photographs of aircraft on the ground that have not been yet secured by fence.
Those participants that were happy to have taken part in 2015 and 2016 have therefore been able to take exceptional pictures. They have not hesitated in thanking the team of this new organization; as one could see on social network sites. 60% have answered to the Survey which will allow us to consider, if possible, all their propositions and good ideas.
For 2017, there will be 200 tickets for each airshow. Concerning Bordeaux airshow, repetitions will take place on Saturday as Sunday is the only day open to public. Aircraft may arrive on Friday. There will be only one to two hours available for aircraft exhibitions due to commercial activity on the airport. More time will be available for helicopters, UAV and radio-controlled planes. You will be offered a choice of 1 to 3 days' package, from Saturday to Monday.
Concerning Saint-Dizier airshow, repetitions will take place on Friday. You will be offered a choice of 1 to 4 days' package, from Friday to Monday.
Prices are linked to the new modularity and take into account the new entry price for public.
Two competitions allowing every spotter to show their best original photograph (non touched up) to the jury, will be organized once again and will take place on Saturday in Bordeaux, Friday in Saint-Dizier.
Two new competitions are offered in 2017. Every spotter is allowed to present their two best retouched photographs. The selection process will use the support of Facebook and a jury.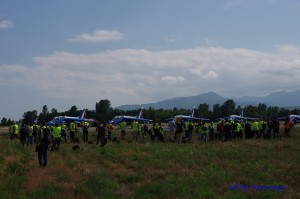 In 2017, partnerships with Sigma, Pentax, Nikon and Canon are expected. They will provide competition's prizes and lend recent materiel to spotters during the Airshow and also.
In 2016, the 3 award-winners were given their prize on the podium; click on the link to see the first ten photographs of each meeting (first three photographs are listed according to their position on the podium, the remainder are in alphabetic order).